Achim D. Brucker, Software Assurance & Security Research at University of Exeter, discussed security certifications at this month's SWCSC Networking Meeting.
Achim's Intro to Security Certificates
Many certificates are required when applying to cyber jobs and roles, where it is essential to know specific standards and tools.
Knowledge areas:

Core knowledge = broad, high-level
Expert knowledge = depth and specialism

People are asked to obtain too many certificates. Since there is a handful needed for the main areas of cyber security, it is important to check if the certificate is relevant and worth the money for you.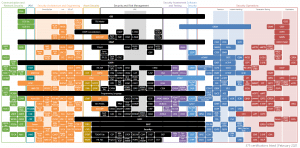 Paul Jerimy – Interactive Website
Paul Jerimy created an interactive website listing 375 different security certificates and using schemes to show levels from entry to expert/ senior, and the categories such certificates fit in (e.g. Security Operations, IAM, Network Security).
This website is a great way to see which certificate is required for your specific cyber security path and the knowledge you need to know.
It essentially is an efficient tool as it saves you time and money when it comes to knowing which security certificates to get.