Background
Mike Madden, DASA Innovation Partner South West of England, discussed the Defence and Security Accelerator Overview at the SWCSC Networking Meeting this month.
DASA
Created 5 years ago
Find and fund exploitable innovation to support UK defence and security quickly and effectively, and support UK prosperity
Innovation
Part of a wider innovation ecosystem across defence and security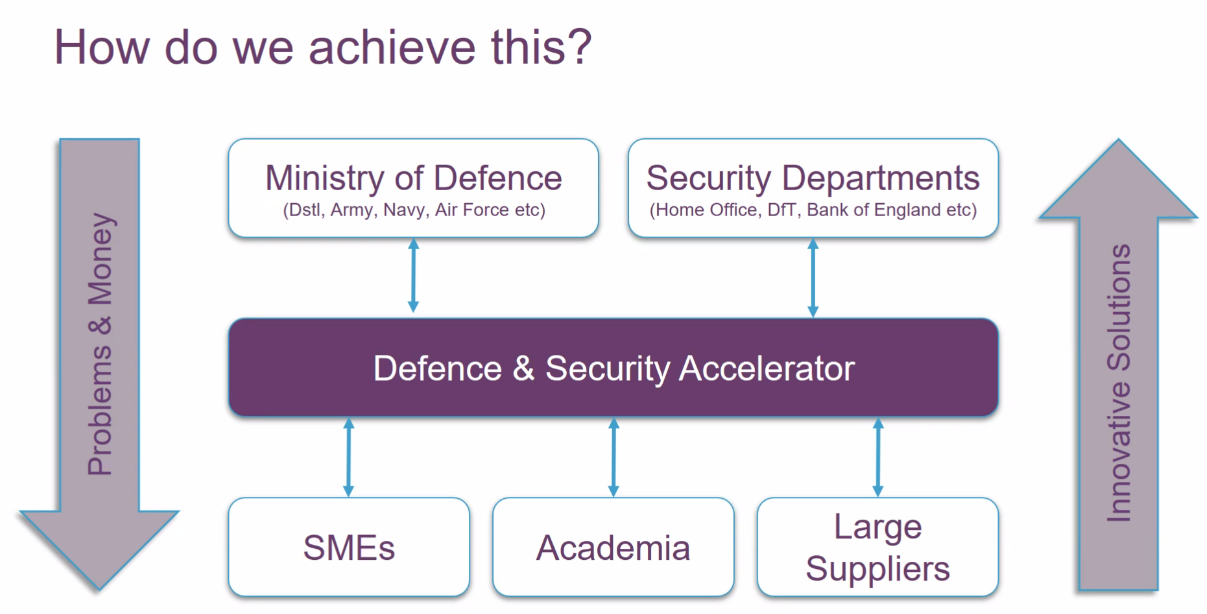 They come to DASA with problems and cash, DASA go back to them with solutions…
How to get involved?

Market explorations
Competitions

Themed competitions (customer pull), open call competitions (innovator push)

Networking events
Mentoring and finance services

Current Open Call Competitions (www.gov.uk/government/collections/apply-for-funding)

Open call – Defence

Emerging and Rapid Impact Innovation Tracks
Closes 5 Jan 2022

Open Call – Security

Rapid Impact Innovations Track
Closes 5 Jan 2022

Innovation Focus Areas

IFA028 – Autonomous Resilient Cyber Defence Intelligent Agents (ARCD)
IFA029 – Reducing the Cyber Attack Surface (RCAS)
IFA030 – Military Systems Information Assurance
Dstl Cyber – What we do
Cyber Defence S&T provides innovative, agile and timely outcomes to support MOD and UK Government delivering cyber resilience.
Focus: Non-conventional IT systems. Working with sever constraints in bandwidth, power, or space.
New Opportunity: Explore the convergence of cyber hardening, cryptographic techniques, and autonomous cyber defence. Reduce the attack surface, raise the barrier to entry.
Dstl Cyber – How are we going to do it?
Harden the system: Reduce the cyber-attack surface
Protect the information: Information assurance
Defend at pace: Autonomous resilient cyber defence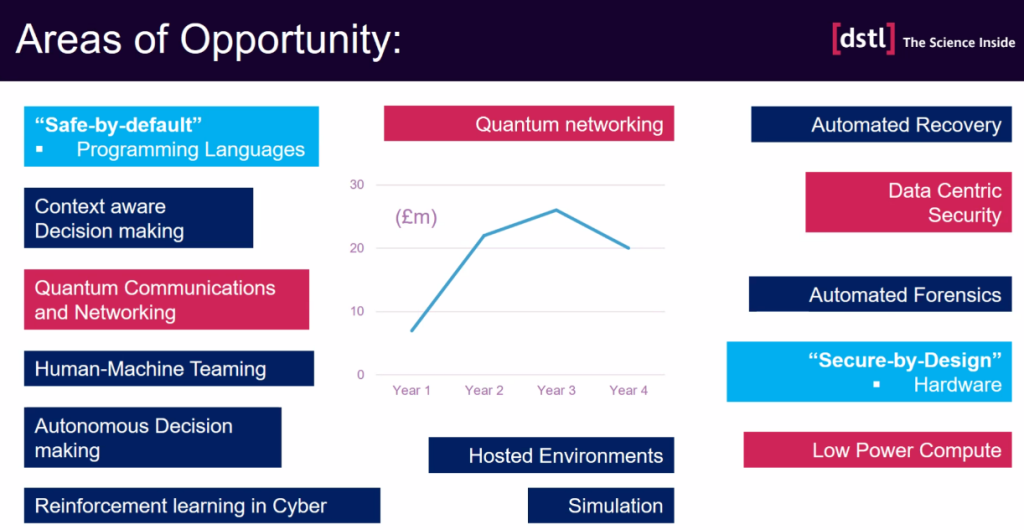 Routes to Market:
Innovation and High-Risk ideas: DASA
Targeted Research Through Frameworks: SERAPIS, SECTORED, ASTRID, Electronic Warfare & Cyber
Contact DSAS:
Email – accelerator@dstl.gov.uk
Website – www.gov.uk/dasa
Twitter – @DASAccelerator
LinkedIn – Defence and Security Accelerator