Background
Darren Grey, Securious Ltd, is a Lead Implementer of ISO 27001 and discussed the standard during June's SWCSC Networking Meeting.
ISO27001 
Is a justified risk management framework

Establish, implement, maintain and continually improve an ISMS – never ending process, always learning and improving
Ensures the organisation's assess and monitors risk to InfoSec
Implement controls (document / technical) to manage risks
Risk appetite always changes and need to understand what that is
Look at risk and mitigate the controls with policies, procedures and technical controls
Holistic security: assets, physical, technical, strategic, risks & opportunities (things that have not happened yet) / problems & improvements (incidents that we learn lessons from)
Continually in the cycle of improvement
10 clauses that can be combined to other ISO standards
Why Do Organisations Want ISO 27001?
Bidding & supply chain demand (due diligence)
Build security robustness and resilience
Reassuring stakeholders – clients, 3rd parties, staff
World recognised standard, proactive risk management (culture change), not being the weakest link in the chain, foundation of good practice for org expansion, combining management systems, financial drive but understand the benefits when implemented
How Do You Get It?
One size (international standard) fits all
Understand your system – Who? Why? How?

Leadership, ISMS team, all staff (role specific)

Mandatory & non-mandatory documents

What is your risk appetite?
What is important?
What is the risk?
What is expected?
Evidence = objectives, risk identification, plans, actions, checks/audit

Improvement – Plan, Do, Check, Act
Plan Do Check Act: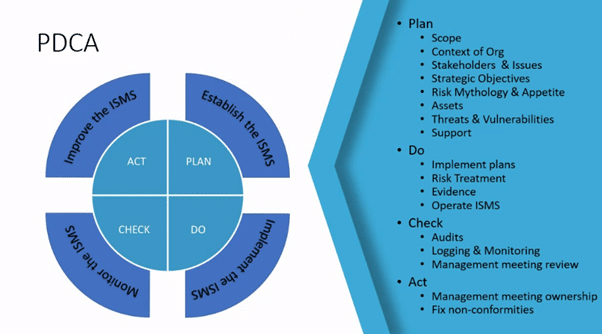 Process of certification
Get in touch with an external auditing body (UKAS)
Implement your ISO (and run it)
Gather evidence
Full internal audit
ISMS management meeting – full agenda
External Audit – Stage 1

Doc review and understanding

External Audit – Stage 2

Evidence gathering – are you running an ISMS?
 Benefits
Reduce risk
Robust security processes & Risk Management
Continued improvement of processes, procedures & awareness
Increased reputation & win new business
Engaging employees & supply chain
 Pitfalls
Leadership buy in
Resource – ISMS team knowledge or leavers
Understanding ISO is 'a toll to be owned & used'
Paper exercise – not a tick box exercise
Blame culture
Cost of gaining certification – ISO can still be implemented
 Summary
ISO is a tool to be implemented and used by the organisation
PDCA
System of improvement
Considered response to org risk
Know what is important
Know how you will protect it