Background
Charlotte Collyer from Heart of the South West LEP discussed Digital Skills Partnership during the SWCSC Networking Meeting in May 2021.
Digital Skills Partnership is funded by the Department for Digital, Culture, Media and Sport and was launched at the end of 2018. It brings together the public, private and third sector to tackle the digital skills divide in Somerset, Devon, Plymouth and Torbay. They work to eradicate social and geographical imbalances to ensure everyone has access to develop their digital skills. Coordinating and delivering a strategy that raises digital skills across the region.
The Local Digital Skills Partnerships
Lancashire
Heart of the South West
West Midlands
South East
Cornwall and Isles of Scilly
Cheshire and Warrington
Digital Skills Partnership Sub Groups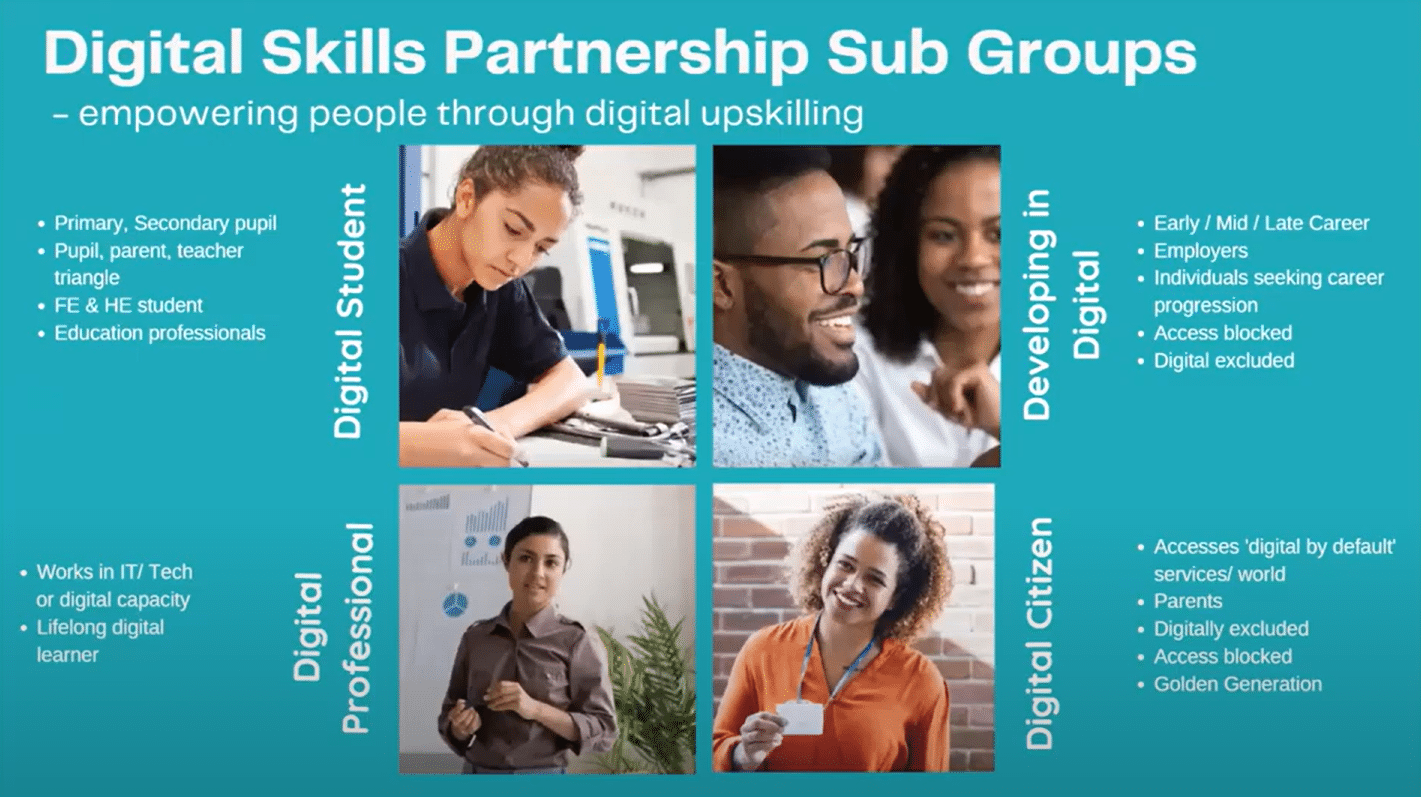 Find out more for digital news, events, insights, free resources & courses.
Turning Strategy into Delivery
800 businesses use Bounce Back Digital as pandemic affects ability to trade
194 women and residents in deprived wards helped to pivot into digital careers
700 businesses access Lloyds Bank Digi knowhow sessions
50 mature workers helped to explore career changes
750 Digital and Technical bootcamp learners
1000 secondary school pupils reached
Train4Tomorrow
Enabling people to move or advance into digital careers with the Train4Tomorrow bootcamp
Wave 1 (+ extension)
January – June 2021
£2.2 million funding
900 places on 13 bootcamp pathways
CIOS, HoTSW, Dorset LEP geography
Wave 2 (bid pending)
July – June 2022
£1.5 million funding
760 places on 18 bootcamp pathways
CISO, HoTSW, Dorset LEP geography
Virtual Job Fairs
26 May 2021
Free to attend for employers with open vacancies
Host a virtual table with timed 15-minute slot rotations
Swap company information, details and vacancy urls
Keynote speakers from TechNation, ComPTIA and others on the hour
REGISTER HERE: bit.ly/T4TJobsFair
Our Future Talent
Raising digital engagement at KS3
Growing the digital pipeline
Support a digital activity
Speak to a class virtually
Create a sector spotlight film
CyberFirst Schools Unlock Cyber Challenge for Yr 8's South West STEM fest
Amazon Future Engineer £5,000 bursary
Other Programmes
Digitalboost.org.uk
Macros and SMEs
Along with South East LEP highest level of business and charity boost requests
Technation.io
Businesses looking to scale
Along with South East LEP highest level of business and charity boost requests