During last month's SWCSC Networking Meeting, Mike Halliday and Steve Caunter gave us an update on how the Cyber Futures program is shaping up.
Over the autumn term students at South Devon College have been trialing the Immersive Labs workshops and sessions. The core of these have been heavily technical whilst aiding development of employability skills, providing the next step in their education. These have been provided by four main partners: PGI, CoreTech Security, Lineal and Optimising IT, alongside the NCSC. The group of partners designed a curriculum to establish an understanding of the increasing need to develop cybersecurity technologies and how they can be built; starting from operating systems and networking, to encoding and encryption.
The spring and summer terms will continue developing technical skills with a range of new partners, but will focus on employability and providing career context. Workshops will include: CV building, prepping for interviews and discovering jobs and their benefits, encouraging the students to direct their career aspirations into the cyber tech industry.
[foogallery id="1020″] At the beginning of December the NCSC held a focus group with the Level 3 Computing students. Below are what they believe works well and what needs to be improved upon for the spring and summer terms or future roll outs of the program.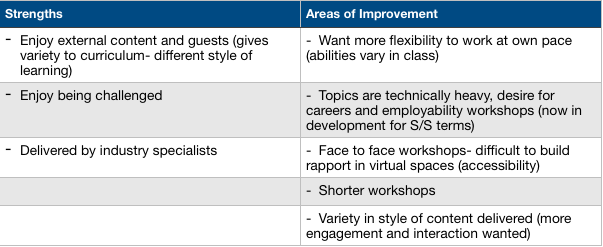 However, South Devon College has seen incredible developments and growth in the last few months taking their Immersive Labs ranking from 263rd in October 2021 to 102nd in December setting them on track to secure the College's Cyberfirst Gold status.