CyNam 21.1: Data Breaches- the New Normal? – 11/02/2021
About this Event
Cyber Cheltenham (CyNam) brings together the cyber community for their first event of the year, CyNam 21.1: Data Breaches – the New Normal?
CyNam 21.1 will be jam packed with discussions, Q&A's and insight from leading lights in the cyber tech community. With a stellar line up, this is one event you won't want to miss!
The event will be exploring if data breaches are now, inevitable? Should we accept that nothing is totally secure and prepare accordingly? Can cyber innovation help save the day in 2021? From SolarWinds to FireEye, encryption to segmentation and the benefits of the Human Firewall.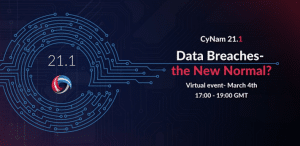 More Info…
Thu, 4 March 2021
17:00 – 19:00 GMT
Virtual event