Cyber Security Skills in the UK Labour Market – survey
Ipsos MORI Cyber Skills 2022
DCMS and Ipsos MORI's cyber skills survey: an overview
Ipsos MORI carries out an annual survey on skills and recruitment needs among UK cyber sector businesses for DCMS
They survey informs DCMS's policies around cyber skills development and also feed into the actions of the UK Cyber Security Council
Your participation will help the government to support businesses like yours with your skills, training and recruitment needs
They need as many cyber sector businesses as possible to participate, so that the results can be as reliable as possible. Over 180 have already taken part this year.
The results are published on GOV.UK each year, so you can use them to inform your own approached and benchmark yourself against other businesses.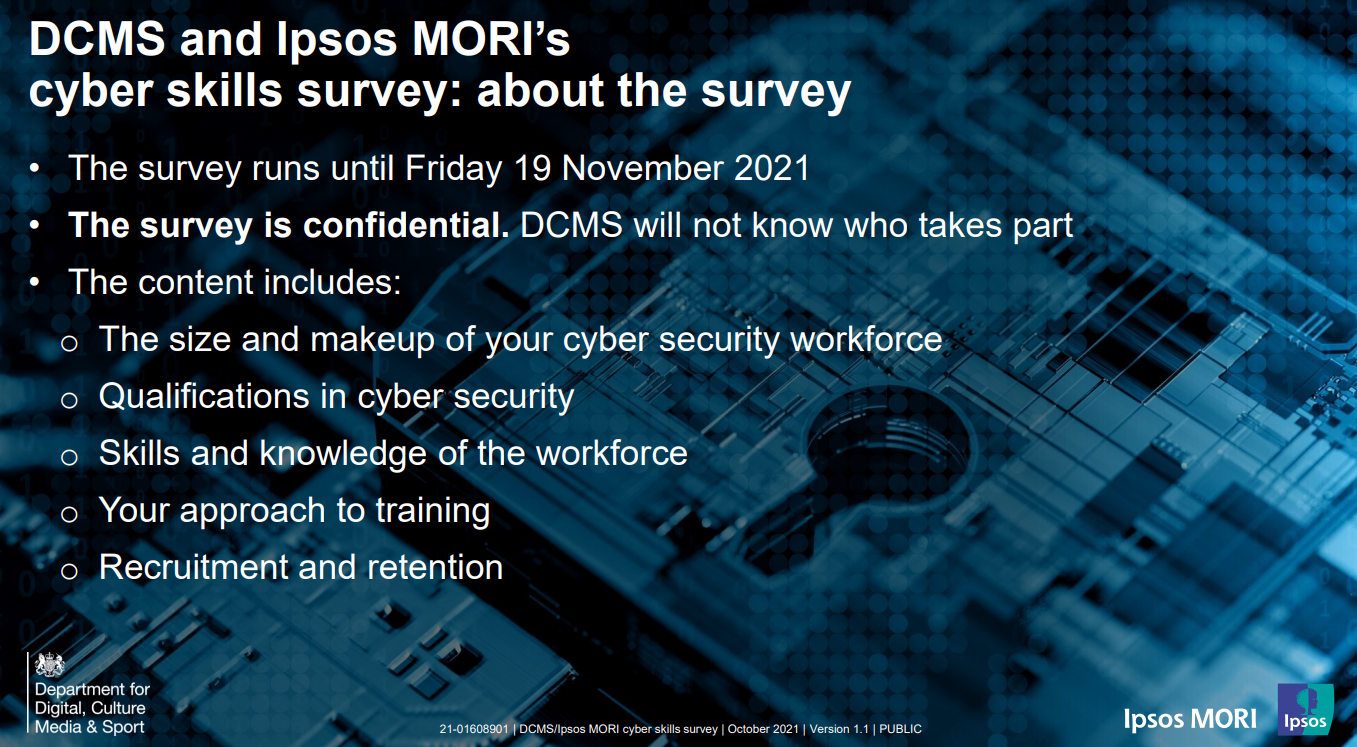 How to take part
This is mainly a telephone survey, but they also offer everyone the chance to take part online if that is easier
Each interview typically takes 10-15 minutes to complete
Their Edinburgh call centre (dialling code 0131) is calling cyber sector businesses up to mid-November to invite them to take part
Contact:

Call on (freephone) 0800 152 2922
Email dcmscyberskills@ipsos-mori.com
More information and Privacy Policy: https://www.gov.uk/government/publications/understanding-the-uk-cyber-security-labour-market
Survey
The team at Ipsos MORI who are undertaking the Cyber Security Skills in the UK Labour Market research are nearing the end of their survey work and are looking to do one final push to get more respondents from the cyber sector.